How To Take Yourself On Vacation
(First thing's first. This post is in no way sponsored. I took myself on a much needed getaway to a place I ended up falling in love with and posting about enough via social media that CIVANA has given me the gift of offering my readers 25% off their stay if they have the desire to experience this incredible desert oasis. Use code SOCIAL19. Ok. Now to my recap…)
I have never traveled alone.
Well, figuratively. Literally, yes — I've gotten onto planes and into Ubers/Lyfts entirely on my own, with no company. But I've never traveled to a place alone only to remain alone in said place for an extended period of time; no meeting up with someone, no staying at a friend's house who happens to live there, no nothing. Just me. And at 32, I decided it was high time I do just that.
It all happened so fast. One day, I realized I had nothing (no trips) planned for summer and was like WTF. That just ain't right. And I did what I normally do—mentally run through the very short list of friends I could possibly convince to go somewhere with me, realizing it wouldn't happen. Bummed out, I had a crazy thought: what if I went somewhere…by myself?
At first, the thought overwhelmed me. I couldn't possibly… could I? Is that sad? Pathetic? What if I get lonely? What if I'm incapable of booking all my own travel? What if what if what if what if what if. But that day, my optimism and self-worth surmounted my anxiety and before I knew it, I found myself researching where a single gal like me could take herself for her first solo trip.
Somehow, it came down to 1 of 2 destinations: Arizona or New Mexico. I didn't really care which one I ended up booking, I just knew I wanted a true getaway at a fantastic spa/resort. Somewhere I didn't need to leave the premises for any reason (I felt this approach was smart for a first solo trip — dipping my toe in as opposed to diving in full force on some European adventure or super explorative trip. My anxiety needs baby steps).
The number of tabs I had open on the day I decided to book a trip was disgusting. I could barely keep up with myself. Admittedly, I lean into my baby sister/baby of the family role pretty hard when it comes to planning any kind of trip, so this was my first time ever planning something (the flight, transportation, hotel, etc.) completely on my own. I was flustered, and almost to the point of throwing my hands up when my longtime Internet friend pointed me in the direction of This Mom's Gonna Snap! blog. My friend told me she had just posted about some spa in Arizona, and I should look into it. So I did, and that's how I found CIVANA.
At first, I was like no way. This isn't real? It can't be. It's too perfect. It's exactly what I wanted from spa to room to amenities to everything. I dug for HOURS, searching for the catch (very similar to how I operate in romantic relationships, but that's neither here nor there). The food has to be gross, right? The rooms aren't THAT nice. The spa is just ok. SOMETHING HAS TO BE WRONG WITH THIS PLACE. I found nothing. In fact, it kept getting better until I reached the booking part where they were offering a 3rd night free rate that was too incredible to pass up. I triple-checked that offer/rate, took a deep breath* (*massive gulp of wine), and booked it.
I can honest to God say, this trip was the best thing I've maybe ever done for myself. I can barely write this post without getting emotional because that's how much this trip and CIVANA mean to me now. I was nervous, of course. I even had vacation nightmares (I get there and it's nothing as pictured, I miss my flight, etc.). But getting there was an absolute breeze (for my Dallasites: flew Southwest to PHX, and took a 40min Uber to the hotel!), and the second I arrived and walked through the property to my room, my entire body seemed to relax. CIVANA in no way catfished me; it looked exactly like its pictures. Better even.
Because of the amazing deal they had going on, I upgraded to a king spa suite with a mountain view, (highly recommend this room) and actually squealed when I walked inside.
Two sinks — both mine.
A huge tub — all for me.
The kind of floor-length mirror influencers dream about — mine.
And the best part? The king bed wasn't shoved up against a wall as it normally goes. No. CIVANA wants you to enjoy the view you paid for, so they have the bed facing your patio and I swear to you — I've never slept better or been happier to wake up. That is some serious feng shui.
That first night, the staff brought me a complimentary meat and cheese board along with a bottle of wine, and I ate that board with such passion, you would've thought it was a death row meal (which we all know will be Chipotle and Velveeta+Rotel). But, I was still hungry, so I ordered their kale caesar, setup shop in bed to eat it, and poured my third glass of wine to accompany me to the tub. It was literal bliss.
The first thing I noticed upon waking up Friday was the quiet. CIVANA truly is an escape. So serene, so tranquil, so few people. It's almost as if everyone's signed a non-verbal agreement to just be at CIVANA. No loud noises. No loud music. Everyone's chill with the natural surroundings being a soundtrack, and it's amazing? For someone who loves being social and talking, and usually keeps The Office playing in the background during weeknights, it was the kind of setup I didn't even know I needed.
On site, CIVANA offers a coffee shop (open daily from 6a-12p), and their restaurant, Terras (open all day until 9pm). The coffee shop, Cafe Meto, is adorable and offers everything from fancy lattes to smoothies to juices. I got a vanilla almond milk macchiato Friday morning and enjoyed it outside on their patio (which is insane seeing as though the desert heat was making my legs tingle, but when in Rome) before making my way to Terras for breakfast.
Because it's the only restaurant on-site, I ate at Terras for every meal and each one was better than the last, truly. CIVANA is all about taking care of yourself, so their food offerings are not only delicious but incredibly health-conscious. Their menu boasts meals that adhere every food lifestyle imaginable, and it all tastes so good and so, so fresh. They even have fresh squeezed juices, and if you think I didn't special request a pineapple juice mimosa, you thought very, very wrong.
My first full day was centered around my 2-hour spa treatment. It was the main event of the day, and the one I was planning for and around. So, from the time I woke up (6am, damn time change) until 2pm, I sipped coffee, mimosas, ate breakfast, and made my way to the spa pool to kill time. Not kill, actually. More like soak it in. The spa is stunning. I've never had a true spa treatment, just massages at random massage parlors in Dallas. So getting to wear my robe to the spa, put my things in a locker, and be free to move about the cabin (facility) the entire day and experience all the amenities (steam rooms, hot tubs, cold water showers, an aqua vitality circuit where you move from cold to hot, the most gorgeous relaxation room) was a dream come true.
And my treatment. Y'all. I cried. And I sincerely hope the woman who provided her services didn't hear me or notice my breathing getting real weird when I was face down. It was the most amazing thing I've experienced. For two hours, I was pampered and taken care of, and it was such a relief. I chose the Down to Earth and Sea Body Detox, and OMG. For the first hour, I was exfoliated, covered in a seaweed and coffee scrub oil, topped with a full body mud mask, then wrapped in 4 layers of comfort and security. When wrapped, a heated and weighted pad was placed over the top of my body, I was asked to take 3 big inhales of an invigorating oil, a cloth was laid over my eyes, my scalp was massaged, and I was left to rest there for what felt like days but was probably only minutes. I went somewhere else. I don't know where, but I wasn't in that room. Bound in a cocoon of myself, so warm, so comfortable, my mind drifted away from my body. I was transported, and I can honestly say I've never experienced anything like it.
But the best was yet to come. To rinse the mud and oil off, CIVANA's spa has something called a Vichy. A Vichy, as described by the internet, is "a shower with from 5-7 vertical shower heads in which large quantities of water are showered over a spa patron while he or she lies in a shallow wet bed (similar to a massage table, but with drainage for the water)." If you can't picture it, it's basically a rod with 5-7 shower heads that is moved directly over and above your body as you lay still. Warm water is my safe place. A hot shower or bath is my go-to when I'm feeling sad, anxious, tired, anything. It's incredibly therapeutic for me. So when I felt the Vichy, I lost it. Face down as it gently rinsed me off, I was overwhelmed with gratitude and joy that I was there, having this done. That I booked this trip for myself and had the means to do so. That, although I have been through it with dating and relationships and have had some of the lowest moments of my life, I'm here in this beautiful place, taking care of myself. That finally I understood I didn't need to wait on anyone or the idea of having someone to take myself away and see the world. I could do it right now. So, I very softly blubbered, overcome with joyous emotion.
Afterwards, I drifted to my one hour full body massage then back to my room to shower and relax before making my way back to the spa to watch the sunset from their relaxation deck followed by dinner at Terras. The first night, I was asleep by 9:45.
On day 2, with my spa treatment turned self-actualization breakthrough behind me, I was ready to do nothing and everything. One of the many amazing things about CIVANA is that they offer up to 10 FREE exercise classes a day from HIIT training to wall yoga and everything in-between. Their gym boasts one of those virtual workout systems, so you can go in at your leisure and decide what kind of workout you want to do that day. It's also a fully loaded gym; truly, I've never seen a fitness facility so well-equipped. Any sort of workout you desire, you can have. So, I started my day by finishing week 5 of BBG, then getting fuel in the form of coffee, water, mimosa, and food before heading back to the spa pool for a day in the sun. CIVANA has a main resort pool that's gorgeous, but for some reason, I was more drawn to the spa pool. It just felt even more relaxing and secluded. So, I spent the majority of the day there Saturday, soaking up the sun, reading my book, sipping drinks, and housing shisito peppers and buffalo wings. Again — pure bliss.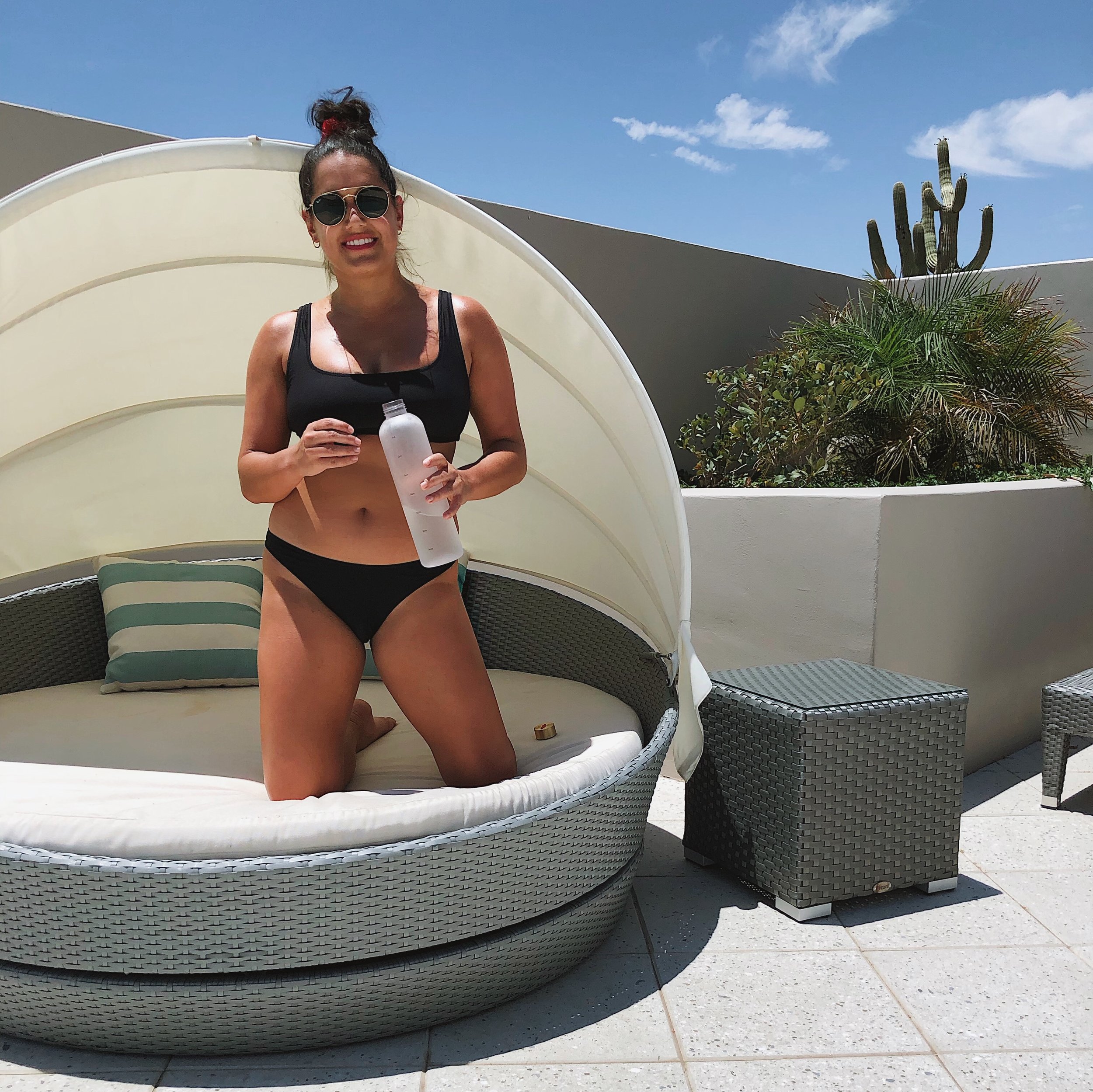 My last night was quiet with dinner and one last bath before I got home to a tub-less shower. I didn't want to pack up and leave. Really, I didn't. But all good things must come to an end, so Sunday morning I climbed into my Uber, took one last look at CIVANA, and thanked it under my breath for such an amazing weekend.
If you're still here, thank you for taking the time to read my intense love letter to CIVANA. I think I can confidently say that taking myself on vacation was a life-changing experience. Of course, there were 1 or 2 moments of feeling "lonely," but they were fleeting; I didn't allow myself to get lost in those thoughts. Instead, I quickly re-centered myself, remembered who I am and where I was, and ordered another drink. It was the perfect getaway in a dreamy desert oasis, and I am so thankful I did it for myself. If nothing else, my time at CIVANA was rejuvenating and validated what I've always known but Lizzo put into perspective: I am, in fact, my own soulmate.
(If you are looking to book a getaway, use code SOCIAL19 to get 25% off your stay at CIVANA and tell them I said hi and I miss you)